Meet Tyler From Turf Teq!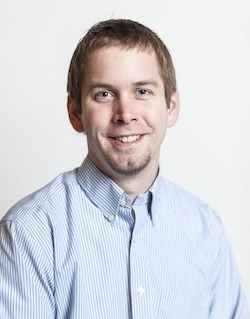 Tyler is a key member of the TURF TEQ team, and works behind the scenes to answer questions, fill orders and even build machines. He's one of the faces of TURF TEQ on the road when we perform dealer training sessions and visit trade shows around the country. We caught up with Tyler to chat about what he loves most about his role at TURF TEQ.
How long have you been with TURF TEQ?
I started with TURF TEQ a little over a year ago. I was a technician with one of the other TEQ GROUP companies and when TURF TEQ needed someone to help it grow, I stepped in to fill the slot!
What does your typical day entail?
My days can be anything but typical! And that's one of the things I love about my job. In any given day I could be on the road meeting with our dealers and customers, filling parts orders, even building machines in the shop. I really enjoy being involved in all aspects of the business. It makes me better able to serve our customers.
What makes TURF TEQ equipment so special?
We put a lot of care into building these machines. From the raw steel that is cut and formed on-site, to the engines, transmissions and other parts that we source – each TURF TEQ machine is built by hand with the utmost quality and care. Compared to other landscaping equipment manufacturers we're not that big, so we can make sure that each machine that leaves our shop is 100% perfect every single time. And when you're calling to ask a question about one of our machines, you're talking to someone who has built them, fixed them and used them on their own lawns.
Why do customers appreciate the multi-use aspect of these machines?
The flexibility that our line of equipment offers is incredible. Our products are available as a complete machine, either dedicated-use or multi-use, and also as attachments that work with all of our multi-use machines. So if you're a professional landscaper, you can buy a multi-use Power Rake, a Broom attachment and a Plow attachment. By swapping the attachments you've got three distinct machines. Instead of buying, servicing and transporting three machines, you've eliminated cost, overhead and time. That's a huge savings! 
What types of customers buy TURF TEQ equipment?
Our customers are mainly professional landscaping businesses, and also large organizations with lots of property to maintain. Colleges buy our products, shopping malls, basically anyone who has a large facility or grounds to care for. Our machines are designed to work quickly, save time and save money. So basically anyone with property and grounds to take care of can benefit from a TURF TEQ machine.
What do you love most about your job?
I love helping our customers. When I hear stories or see postings on line about how our machines help landscapers save time and money, that's what makes it all worthwhile. And working together with our customers to help them make the most of their equipment is what it's all about!