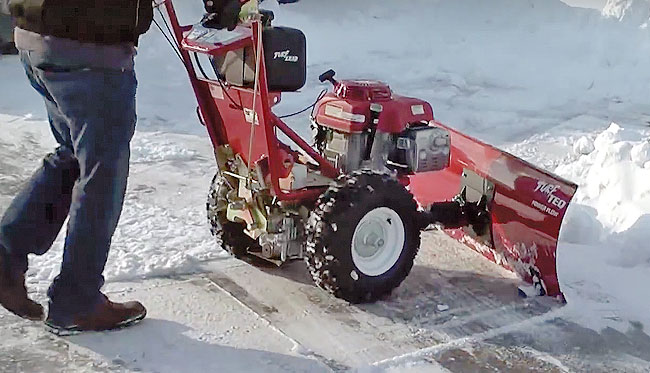 How to Handle Winter Snow Removal Jobs Faster and Easier
The cold, the wintery winds, and the labor-intensive work make the task of removing snow a perfect storm that requires time, effort and manpower. But with snow removal equipment that can make the work exponentially faster and easier, you and your crew can tackle winter jobs more quickly and with less outright dread. This will help your business do more jobs in less time and maximize snow season profitability.
Three Characteristics to Look for in Commercial Snow Removal Equipment
Heavy-Duty Construction
A machine made with a commercial-grade engine and parts will work more efficiently while holding up under even the most challenging conditions. Durability and reliability matter when getting the most for your equipment investment! It's the difference between a machine that will last a season or two, and a machine that will last decades.
Self-propelled Design
A self-propelled machine will save your crew from expending back-breaking manual effort to get the job done. Equipment that requires less physical effort will allow your team to accomplish more in less time—plus, it helps reduce the risks of job-related overuse and overexertion injuries. And, most importantly, less manual effort means less manpower on the job, and that means greater profitability for your business.
Thorough Results
Also, look for a machine that will clear snow effectively, right down to the surface, right from the start. When you have equipment that does its job in one pass, you don't have to spend additional time cleaning up areas you already worked on – PLUS, it reduces salt usage. This can be a huge time saver on big jobs, and can help keep labor costs under control this season. Not to mention, your clients will be thrilled with how quickly and precisely your crews clean up their properties.
TURF TEQ Snow Removal Machines Have You Covered
Fortunately, you've come to the right place to find snow removal machines that meet all of these requirements. TURF TEQ's Power Broom and Power Plow are just what you need to make short work of winter tasks.
Our machines are designed and manufactured in Pennsylvania with high-quality materials and a robust commercial-grade Honda engine. With a locking differential and hydrostatic transmission, they provide exceptional traction and have an adjustable ground speed to meet the demands of the job at hand. They have a walk-forward, self-propelled design—and all controls within reach from the operator's position—to give your crew optimal ease of use. And most importantly, they deliver exceptional results. Read on for more information about each of our snow removal machines.
Power Broom
Our Power Broom is ideal for removing light snow from hard surfaces. Its 46-inch wide, 18-inch diameter brush covers 33 percent more area than most other snow sweepers on the market so it covers more area in fewer passes. Plus, with the Power Broom brush's adjustable downforce, you can remove snow without scratching or scraping the surface below.
Power Plow
Use our 46-inch wide Power Plow to remove snow up to a foot deep. When Mother Nature piles it on, you'll be ready with the Power Plow! Its oscillating blade follows the contours of the ground to provide precise clearing, and its spring-loaded design means that the blade won't damage curbs or walkways.
The Best of Both Words—And Then Some
Best of all, the Power Broom and Power Plow offer multi-use flexibility. When you buy a Multi-Use Power Broom or Multi-Use Power Plow, you can quickly and easily transform one into the other by simply changing attachments. Together, they give you all the features and power your crew needs to muscle through snow and cold conditions.
Even better, TURF TEQ snow removal machines can be used year-round for other landscaping tasks. The Power Broom can sweep debris from walkways and lots, detach lawns, and level filler in artificial turf.  The Power Plow can grade gravel or other materials and level soil or other substrates. Also, you can use other TURF TEQ Multi-Use Attachments to further extend your capabilities.
Contact us today to learn more about how TURF TEQ's powerful, versatile snow removal machines can boost your productivity all year long.