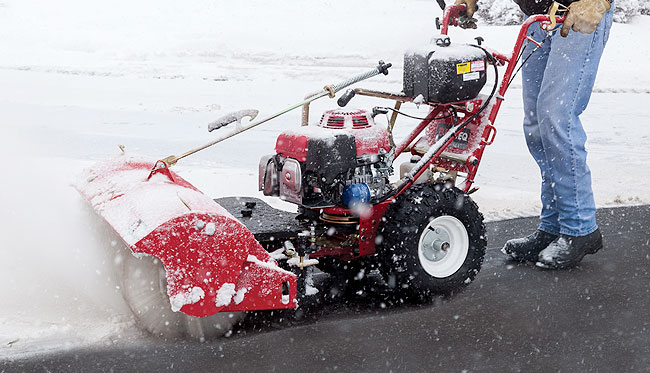 Three Reasons to Consider a Power Broom for Snow Removal
The summer season is winding down, and that means wintery weather is on its way. Prepare for it with the TURF TEQ Power Broom. Why should you make it your go-to commercial snow removal machine? Like all TURF TEQ professional groundskeeping equipment, the Power Broom is engineered with a self-propelled, walk-forward design that enables crews to work smarter, and faster. Plus, read on for several other stand-out qualities to consider.
Three Reasons the TURF TEQ Power Broom is the Perfect Snow Removal Tool
1. It Makes a Clean Sweep.
Our Power Broom sweeps away snow right down to the surface. Its dense bristles deliver optimal sweeping effectiveness to brush away light snowfall quickly and thoroughly. So whether you're clearing snow from walkways, parking lots, driveways, hardscapes, sports fields, or anywhere else, you'll love the results!
2. It Covers a Lot of Territory, Fast.
With a 46-inch wide, 18-inch diameter pivoting brush and powerful, commercial-grade engine, the Power Broom covers a lot of ground quickly! It's wide brush can clean 33 percent more area than other power brooms – and that means it can get jobs done in fewer passes, saving time.
3. It Does the Job Without Causing Damage.
While plow blades and snowblower blades on other groundskeeping equipment might scratch and scrape surfaces, the TURF TEQ Power Broom has a light touch. You can control the Power Broom's downward force to ensure it won't harm what's beneath the snow it's removing.
Make Winter Less Worrisome With the Power Broom
When you have TURF TEQ equipment in your arsenal of snow removal machines, you get the upper hand on winter weather. With our multi-use Power Broom, you can clear away light snow with ease and handle heavier snowfall, too. All it takes is changing your machine's broom attachment with our Power Plow attachment. Like all TURF TEQ equipment, we make the Power Broom out of the highest quality materials—right here in the USA. You can count on its best-in-class durability and performance.
Contact us today to learn more about the Power Broom and its multi-use versatility! Our friendly and knowledgeable team is here to answer your questions and provide ongoing support to ensure you get the most from TURF TEQ machines!