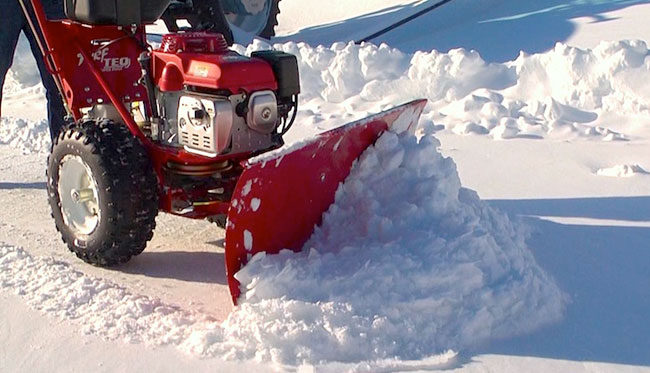 High-Caliber Professional Snow Removal Equipment That Delivers High Performance All Winter Long
When winter weather delivers challenging conditions, landscaping and snow removal companies need to have commercial-grade snow removal equipment that will perform without fail. Fortunately, TURF TEQ's multi-use Power Broom and Power Plow have what it takes to handle snowfall with ease.
The Snow Removal Equipment You Can Count On 
TURF TEQ multi-use machines can transform from a Power Broom to a Power Plow (and vice versa) in only minutes with the simple change of an attachment. One machine, packed with a powerful commercial-grade Honda engine, can handle everything from brushing away a light dusting of flurries to the heavy lifting of plowing through up to one foot of dense snowfall.
Read on to learn more about these labor-saving machines and consider how they can help your business maximize snow removal productivity this winter!
TURF TEQ Power Broom 
46″-wide, 18″-diameter brush to cover 33 percent more sweeping area than other powered brooms on the market
Adjustable brush speed, pressure and angle to do the job well without harming the surface below
Pivoting (15 degrees left or right) brush to ensure a thorough job around edges and corners
Perfect for removing light snow from walkways, lots, driveways, sports fields and more
TURF TEQ Power Plow 
46″ plow blade to cover a lot of territory on each pass
Adjustable blade angle and the choice of oscillating or fixed blade use for optimal flexibility on every job
Replaceable cutting edge to ensure your Power Plow is always at the top of its game
Compression spring trip release to protect the operator and the surface
Perfect for plowing light or heavy snow up to one foot deep
Benefits of the Power Plow and Power Broom 
Save Time 
With exceptional power, speed and precision, TURF TEQ machines do the job on the first pass. And because you can switch from a Power Plow to a Power Broom quickly by changing an attachment, there's no need to haul separate machines on and off the job site.
Keep the Ground Surface Safe
TURF TEQ machines clear snow thoroughly without compromising the surface below. The Power Broom's brush has adjustable downward pressure, and you can set the Power Plow's blade to just the right angle. Also, our machine's tight-turning radius allows you to navigate tough-to-maneuver spaces with ease.
Makes the Work Easier 
We've designed our machines to make jobs less labor-intensive for your crew. They are self-propelled, have a walk-forward design and have all controls within reach of the operator position.
Put TURF TEQ on Your Snow Removal Jobs This Winter 
Be prepared to handle whatever winter has in store for us; put TURF TEQ professional snow removal machines on the job. Contact us today to learn more!