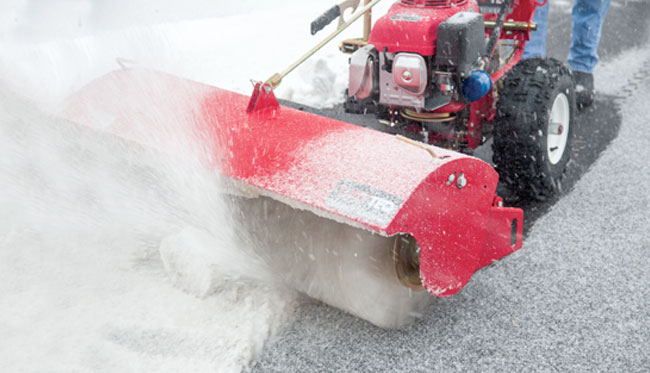 'Tis the Season to Invest in a Best-in-Class Professional Snow Removal Machine
Winter weather is on the horizon — are you prepared with the tools you need to handle whatever Mother Nature deals us? Now is the time to invest in professional snow removal equipment that will help you work faster and smarter this season.
But where can you find snow removal machines that offer the best performance and results? Fortunately, you need to look no further than right here! With a TURF TEQ multi-use machine, you can have both a Power Broom and Power Plow all in one to handle everything from a light flurry dusting to a foot-deep dump of heavy snow.
How the TURF TEQ Multi-Use Power Broom and Power Plow Make Snow Removal Easy 
Our multi-use groundskeeping machines are an excellent investment for removing snow from walkways, parking lots, artificial turf, paths and more. With just a change of an attachment, your Power Broom becomes a Power Plow (and vice versa). So, no matter the conditions, you're ready to make short work of it.
Get jobs done in less time.
TURF TEQ machines have a powerful, commercial-grade Honda engine and 4.5 mph maximum speed, giving them plenty of get-up-and-go on the job site. Their locking differential provides extra traction in heavy snow. The Power Broom has a 46″-wide, 18″-diameter brush that covers 33 percent more area than most other commercial power brooms on the market. The Power Plow has a 46″ plow blade to move up to 12″ of snow easily. With a quick change of attachment, you can switch from a Power Plow to a Power Broom in minutes, eliminating the need to haul separate machines on and off the job site.
Removes snow effectively without harming the surface below.
Both the Power Broom and Power Plow offer exceptional versatility to remove snow effectively while keeping the surface below intact. The Power Broom has a pivoting brush with adjustable brush speed, pressure, and angle, and the Power Plow's plow blade can be angled as needed and set to be fixed or to oscillate. Also, the Power Plow has a compression spring trip release to protect the operator and the ground's surface.
Reduces the manual effort and manpower needs.
TURF TEQ machine's power, speed and versatility make your crew's work easier. They are self-propelled and created with a smart walk-forward design to eliminate hard labor. Also, all settings are within reach of the operator position to provide optimal control all the time. Best of all, they require less manpower than traditional shoveling and plowing.
Have value that extends beyond winter.
TURF TEQ multi-use snow removal machines convert to multi-use machines capable of handling spring, summer and fall landscaping tasks, too. All it takes is changing the attachment to transform the Power Plow/Power Broom machine into a Power Edger, Brush Cutter or Power Rake.
Let It Snow, and Be Ready with TURF TEQ 
Contact us today to learn more about how TURF TEQ equipment can help you save time and boost profitability. Get a quote on our multi-use machines today so that you can tackle tomorrow's snow removal jobs faster and better!