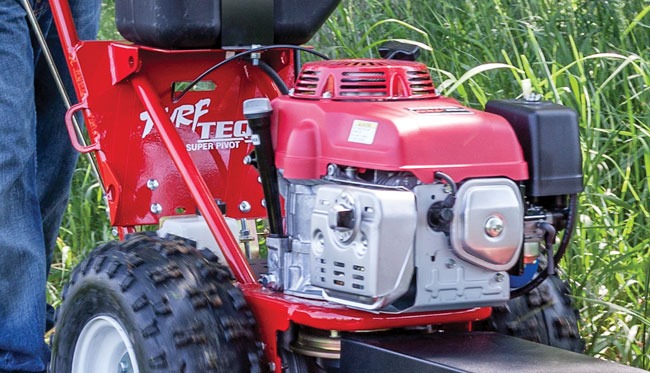 Three Signs Your Company Needs Better Landscaping Equipment
Like any determined landscaping business owner, you're probably on the lookout for ways to operate your company more productively and cost-effectively. For some companies, a change in equipment can make all the difference.
At TURF TEQ, we make innovative, professional-grade landscaping equipment that can serve as a real game-changer for professional landscaping businesses.
How can you tell if your landscaping company can benefit from our line of landscaping machines? Read on for the three signs to look for!
1. You're unable to keep up with customer demand.
That can hurt your revenue potential and your reputation! If you find that you need to turn away jobs because your crews are taking too long to finish projects, or you lack manpower, there's a good chance the equipment they're using is inefficient.
Fortunately, you can fix that with TURF TEQ's machines. With their professional-grade Honda engine and easy-to-use, self-propelled design, they have what it takes to do jobs quickly and deliver exceptional results. Speed is key, because the more jobs you can do in the same amount of time, the greater your profit potential.
2. Your employees have low morale, and you have a high turnover rate.
Landscaping is demanding work, and employee turnover is a common issue industry-wide. One way to help keep your best workers happy is to give them tools that make jobs easier and less physically strenuous. With TURF TEQ multi-use machines, you can lighten the load for your crews. In addition to a self-propelled, walking-forward design, all controls are easily accessible from the operator's position. TURF TEQ machines' powerful engine and variable speed hydrostatic transmission with locking differential cut down on manual effort even on tough, steep terrain.
3. Your profitability isn't where you want it to be.
Last, but certainly not least, if your profits are lagging, it may be time for assessing whether you have invested in the right landscaping equipment. Old-fashioned hand tools, or even machines that lack quality, speed, and versatility will put your business at a disadvantage even if you have the best and brightest team using them. With TURF TEQ, you can rest assured you have exceptional equipment that's built to perform productively and deliver results that will impress the most particular customers. With TURF TEQ machines, you will have the ability to get more jobs done, take on more customers, and boost your profitability.
Ready to Make This Year Your Best Yet?
We have built our multi-use landscaping machines to ensure you make short work of your biggest challenges. Contact us to learn more about how TURF TEQ can transform your business!