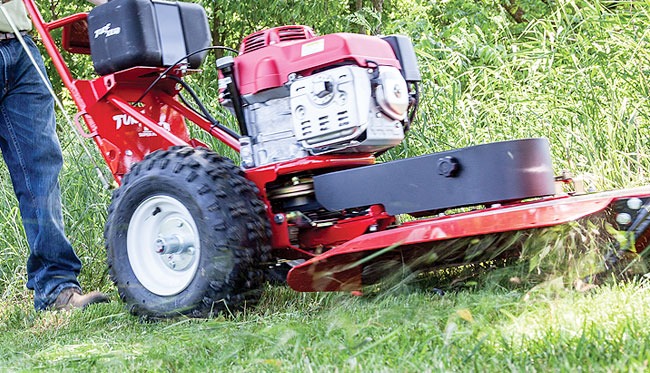 How The TURF TEQ Brush Cutter Cuts Seven Tough Landscaping Tasks Down To Size
Why make landscaping projects harder than they need to be by using equipment that lacks versatility and convenience? With the TURF TEQ professional-grade Brush Cutter, you can save your crews time and manual labor. It's available as a complete multi-use machine, or as an attachment to fit all of our multi-use products. Whichever you choose to put on the job, you will improve efficiency while getting exceptional results.
Here is a list of the commercial-grade features that make it so powerfully effective and easy to use:
10 gauge thick steel cutting deck
26″ cutting blade,
Side-shift deck shifts 14″ to the left
12 degrees of articulation between the mower unit and cutting deck
2.75″ or 3.75″ adjustable mowing height
Side discharge path
Replaceable skids
Controls at the operator's position
Tight turning radius
Self-propelled, walk-forward design
Locking differential for great traction
Hydro-static transmission changes speed on the fly
TURF TEQ's Brush Cutter powers through summer tasks with its professional-grade Honda engine and variable speed, hydrostatic transmission with locking differential.
Use The TURF TEQ Brush Cutter When Tackling These Summer Tasks And More
Mowing around trees
Cutting grass under fence lines
Mowing deep vegetation
Clearing wooded areas
Clearing overgrowth and brush
Clearing paths
Taking down saplings up to 2" thick
When a traditional mower can't handle the job, you can count on our Brush Cutter!
Contact us to find out more about the TURF TEQ Brush Cutter's capabilities and ask about our other professional landscaping equipment, too. We make everything here in the USA, and our machines come with a comprehensive one-year warranty. Make this your most productive and profitable summer ever!