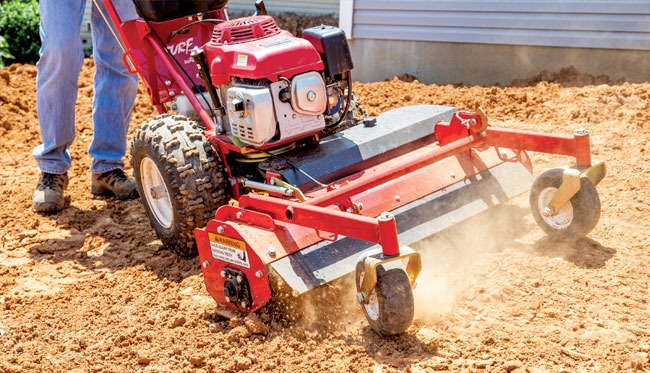 How The TURF TEQ Power Rake Will Help You Power Through Landscaping Tasks
When you have the right equipment for the job, you can accomplish landscaping tasks faster and more profitably. It's vital to choose commercial landscaping tools wisely so that you get the most from your investment on every project.
Just like all of TURF TEQ's equipment, our self-propelled Power Rake makes a smart choice for groundskeeping professionals.
It's available as a multi-use machine, an attachment to fit all of our multi-use products, or as a dedicated-use machine. No matter which you select, you will improve your team's productivity and get remarkable results.
Some of the Power Rake's features that make it a "must have" have include:
36" heavy-duty drum that pivots left, right, and center
Tight turning radius
Ability to pivot machine 15 degrees to the right and left
Controls at the operator's position
Tight turning radius
Self-propelled, walk-forward design
Commercial-grade Honda GXV390 engine
Variable speed, hydrostatic transmission with locking differential
Also, like all of our innovative machines, the Power Rake is made in the USA and comes with a comprehensive one-year warranty. Plus it fits where larger machines won't, so it is the perfect complement to your equipment inventory.
TURF TEQ's Power Rake makes tough tasks easier:
Raking and windrowing rocks and debris
Pulverizing and mixing soil
Evening out soil from piles
Preparing seed beds
Reworking areas of dead grass
Leveling high spots
Dethatching turf
Repairing damaged sod
And these are just a few of the jobs it can handle!
Have You Got the Power?
For more information about the Power Rake's capabilities, contact us today! We'll be happy to share more about how it can help your crews save time, reduce labor requirements, and improve your profits on every job.