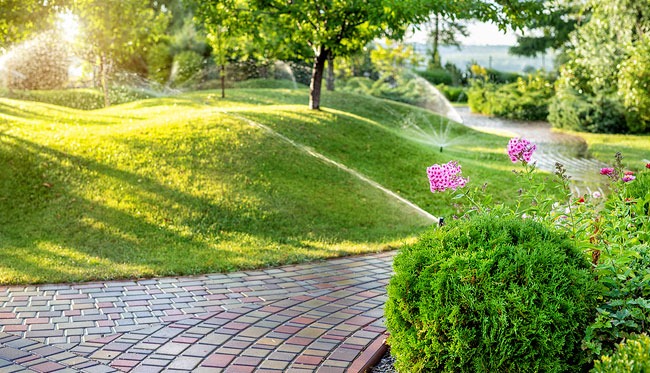 Save Time & Boost Your Bottom Line with the Right Landscaping Equipment
As the weather gets warmer, business for landscaping professionals tends to heat up, too. So if you're looking to get through jobsites faster, save time and boost your bottom line, having the right commercial-grade landscaping equipment to help get you through the dog days of summer is vital.
That's why at TURF TEQ we offer a full line of multi-use machines to help maximize your productivity and save time on the job this summer. Read on to learn how TURF TEQ machines can help you maximize efficiency and boost profitability on summertime jobs.
4 Ways TURF TEQ Machines Can Boost Your Bottom Line
Sweeping
With the Power Broom, you can clear sidewalks, paths, and parking lots of salt/snow-melt products, ash, gravel, twigs, leaves, and whatever else is creating a mess in your outdoor spaces. It's perfect for sweeping the debris that has accumulated over the winter and spring. And with 33% more sweeping area than competing machines and a ground speed of 4.5 mph, you'll work faster by completing even the toughest sweeping tasks in less passes.
Edging
If you need to groom and contour flowerbeds and tree circles, you'll want the TURF TEQ Power Edger on your team. You'll love how it leaves a crisp, precise edge. It's perfect for opening new beds and cutting trenches, too. Best of all it edges at 30 to 60 feet per minute. That's 1,800-3,600 feet of edging per hour! And when compared to a crew of laborers spending all day edging with shovels, the savings are substantial. With the Power Edger one operator can complete a job in minutes, and move on to the next!
Raking
The Power Rake makes fine grading and overseeding a breeze. It roughs up underlying soil, allowing grass seed to penetrate and germinate more effectively. You can also use it to rake debris, perform light grading and even out piles of soil. Once again, when comparing the time it takes a crew of laborers to complete these tasks, you'll realize fast ROI and increased profitability with the Power Rake on your crew!
Clearing Brush
Our commercial-grade Power Brush Cutter is the perfect professional landscaping tool for tough mowing jobs that an ordinary mower can't handle. And that means it is capable of mowing deep vegetation, clearing overgrown and dense brush, clearing saplings, thinning wooded areas, clearing trails and paths, and much more! Plus, with a powerful commercial-grade Honda engine, tough extra-duty build quality, and an 11ga. Steel deck, your crews will beat back overgrowth fast. And that time savings means they'll move on to the next job quicker, and your bottom line will benefit.
Ready to Boost Your Bottom Line with the Right Landscaping Equipment?
By putting fast and reliable TURF TEQ equipment on the job, you can save time and increase the profitability of your business. Contact us today to learn more about our multi-use professional landscaping tools and how they can help transform your business!