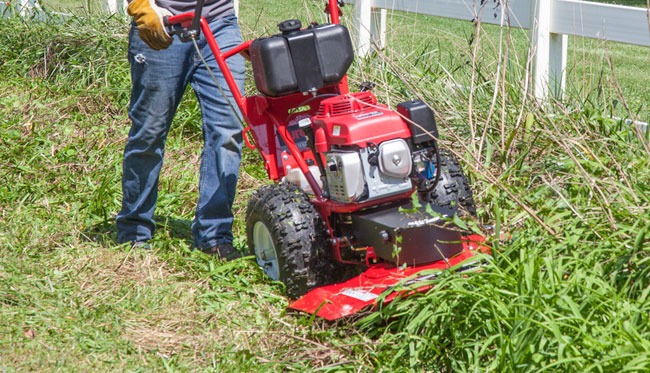 Three Advantages That Help Our Power Brush Cutter Cut The Competition Down to Size
The TURF TEQ commercial-grade Power Brush Cutter has superior construction and smart design to deliver exceptional performance in every season. It's the perfect professional landscaping tool for tough mowing jobs that an ordinary mower can't handle.  Best of all, it will deliver three important benefits to your business. Read on to learn more!
Three Benefits Your Business's Bottom Line Will Love
1. Work Faster & Smarter
The TURF TEQ Brush Cutter has features that make it a cut above other machines on the market. Its heavy-duty engine gives it the power needed to cut through dense growth. And its 28-inch wide, pivoting cutting deck provides flexibility as you go. Like all of our multi-use professional landscaping machines, the Brush Cutter quickly goes from mowing to become a Power Edger, Power Broom, or Power Rake—all it takes is switching attachments. In addition, it makes quick work of even the toughest mowing jogs, saving you precious time.
2.  Get More Done With Less Manpower
Your customers will love the phenomenal results you produce when using the TURF TEQ Brush Cutter, and your crew will enjoy how much less labor-intensive it makes their work. Best of all, you'll love how many more jobs your crews can get done in a day or week thanks to this speedy machine. The Brush Cutter has a walk-forward, self-propelled design that demands less manual effort. Teams can accomplish more as they navigate inclines with ease and can adjust settings conveniently—thanks to having all controls within reach of the operator's position.
3. Boost Business Profitability
Sure, you could invest in multiple machines from other manufacturers. But why do that when you can buy one best-in-class TURF TEQ machine that covers all of your professional landscaping needs?
The Brush Cutter's capabilities include:
Mow deep vegetation
Clear overgrowth and dense brush
Mow around trees and other obstructions
Clear saplings (up to two-inches thick)
Thin wooded areas
Clear trails and paths
And it can do much, much more! TURF TEQ complete multi-use machines are equipped to tackle every landscaping job—all year long! They help save time, increase efficiency, reduce labor costs, and improve profitability.
Put Your Best Work Forward With TURF TEQ
With TURF TEQ, you get precision and productivity you can count on during every season and on every job.  Contact us today to learn more about our multi-use professional landscaping tools and how they can help transform your business!