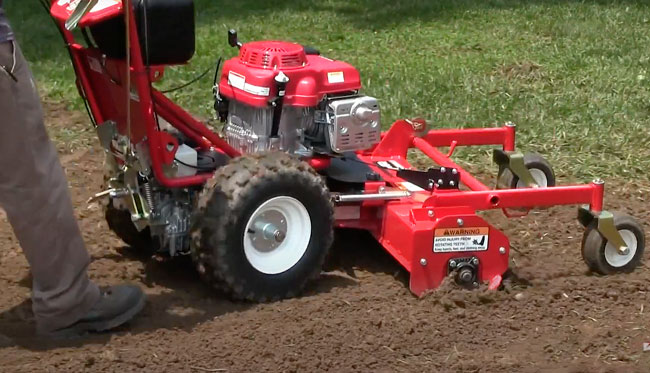 Power Up Your Raking Productivity
Tough raking jobs like spreading soil, repairing turf and performing fine grading eat up time and manpower for even the most efficient landscaping companies. With a commercial-grade power rake, however, you can get the job done faster than ever before – leaving more time to get to the next job site and generate the next invoice. So, what's so special about our power rake?  Read on to find out!
Three Ways A Commercial-Grade Power Rake Can Transform Your Landscaping Business's Performance
Our commercial-grade power rake has what it takes to help you deliver exceptional results on all of your projects—all year round!
1. Work Faster & Smarter
The TURF TEQ Power Rake has features that make it ultra-efficient. With its heavy-duty engine, it performs with plenty of get-up-and-go. And its adjustable 36-inch wide, pivoting drum lets you adjust to the terrain as you work. Like all of our multi-use professional landscaping machines, the Power Rake can transition from a rake to a Power Edger, Brush Cutter, or Power Broom in just minutes—by simply changing an attachment. With no need to haul one piece of equipment off the job site and haul another on when it's time to switch tasks, your team can get jobs done more quickly.
2. Do More With Less Manpower
By saving your crews time and effort, TURF TEQ multi-use equipment enables you to do more with less manual labor. The Power Rake's walk-forward, self-propelled design allows your team members to expend less effort, leaving them time and energy to complete more work. The Power Rake navigates steep inclines with ease, adjusts to the contours of the landscape, and has all settings within reach of the operator for maximal control. This means it will help your business get more jobs done faster.
3. Increase Profitability
Why invest in multiple machines from other manufacturers when one TURF TEQ machine can satisfy all of your professional groundskeeping needs?
With the Power Rake you can:
Rake dirt
Level soil
Renovate lawns
Prepare seedbed
Repair sod
Mix soil
Windrow rocks
Dethatch turf
But that's only the beginning of its many uses. TURF TEQ's complete multi-use machines are equipped to tackle every landscaping project—in every season!  As you save time, reduce labor costs, accomplish more jobs, and gain referrals from loyal customers, your business's bottom line will reap the rewards.
Do Right by Your Business – Introduce Your Crew to the TURF TEQ Power Rake
With ROI that will step into high gear with every use, the TURF TEQ Power Rake is a worthy investment. Contact us today to learn more about its superior design and performance. We look forward to hearing from you!