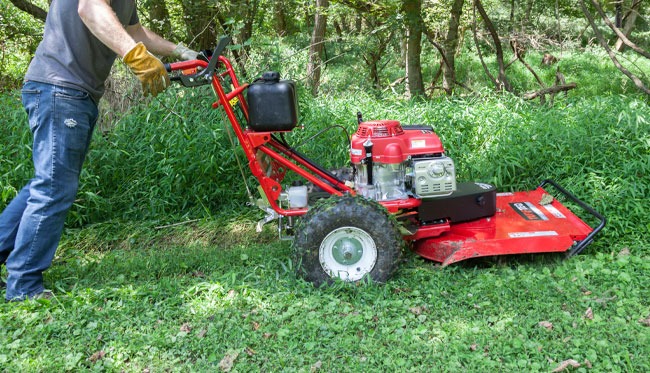 Meet the Ultimate Brush Mower
Busy landscapers know that time and effort equal bottom line dollars, so why make your crews work harder than they have to? With the right brush mower on your truck, your team can get more done in less time with far less physical effort than with other brush mowers. That's good for your workers— and even better for your business's profitability!
What Makes the TURF TEQ Brush Cutter the Ultimate Brush Mower?
1. So Many Uses
Anytime a traditional mower can't handle the job, the TURF TEQ brush mower is up for the challenge. Use it for mowing dense vegetation, clearing overgrown areas, cutting grass and weeds under fence lines, removing saplings up to 2″ thick, and clearing trails or paths.
2. Top of the Line Features to Maximize Productivity and Deliver Stellar Results
You get optimal cutting versatility and power with the Brush Cutter. We make it right here in the USA, using high-quality steel components for lasting durability. It has a cutting deck made of 10-gauge steel and a 26" cutting blade. You get top-notch precision thanks to the Brush Cutter's tight turning radius, 12 degrees of articulation between the cutting deck and mower unit, and adjustable mowing height. On our multi-use model, the deck shifts 14" to the left for even more accuracy.
Like all of our machines, our brush mower features a locking differential for mowing steep inclines with ease. Also, its variable speed hydrostatic transmission allows you to set a speed that's ideal for the task at hand.
All controls are easy to access from the operator's position, and the Brush Cutter's commercial-grade Honda GXV390 engine gives you the horsepower needed to power through every job. When you put the TURF TEQ Power Brush Cutter on the job, you will work faster without sacrificing exceptional results.
3. Flexibility to Fit Your Needs and Expand Your Capabilities
At TURF TEQ, we know how to help landscaping business owners maximize their budget with Multi-Use Technology. Our Brush Cutting is available both as a complete machine and as an attachment that will work with any of our other Multi-Use machines.
Multi-Use Brush Cutter
This complete Power Brush Cutter machine is compatible with all of our other attachments. That means you can quickly turn your brush mower into a Power Rake, Power Edger, Power Broom or Power Plow. This means one machine can be used year-round with a simple change of attachments.
Brush Cutter Attachment
If you already own one of TURF TEQ's multi-use machines, you can purchase the Power Brush Cutter attachment to round out its capabilities. Quickly switch attachments to turn any other Turf Teq multi-use machine into the ultimate brush mower.
4. Support You Can Rely On
The Power Brush Cutter comes with a comprehensive one-year warranty. If you have any questions or issues, our friendly, experienced support team will help you. In fact, we're one of the few equipment manufacturers left that answers the phone, talks you through service and repairs, and makes sure you get the most out of your new machine.
Want to Do Your Best Work and Boost Profitability?
Contact us today! We think you'll find it's well worth your time to learn more about how the TURF TEQ brush mower can save you time, reduce labor, and raise profits.