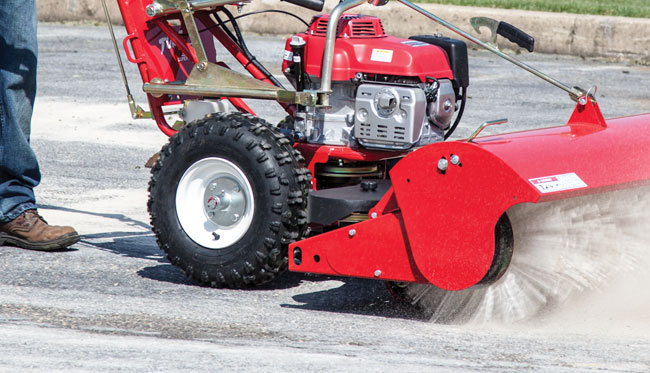 Which Is the Right Power Broom? Ariens vs. Toro vs. TURF TEQ
Professional landscaping projects need more than only a skilled team; they also demand you have the right commercial-grade landscaping equipment on the job site.
But with several reputable brands to choose from, which machine will do the job for you?
Take power brooms, for example. Just like TURF TEQ, manufacturers like Ariens and Toro have built a solid reputation in the marketplace. To hone in on which equipment you should invest in, we encourage you to do your research and make a thorough comparison.
To get you started in that effort, we'd like to share some of the distinguishing features and benefits of the TURF TEQ Power Broom.
What Makes the TURF TEQ Power Broom An Ideal Choice Over Other Power Brooms and Brush Sweepers?
Adjustable downward force – Our Power Brush lets you adjust the amount of downward brush pressure you apply while sweeping snow or clearing debris. Not only does that help ensure you won't damage the surface you're working on, but you'll also minimize wear and tear on the brush.
A brush that covers more territory – The TURF TEQ Power Broom features a pivoting brush with a 46" clearing width; it's broader than the brooms offered by competing brands.
Over-engineered and built to last – With a high-quality steel frame and commercial-grade parts, the TURF TEQ Power Broom stands up to rugged use and repeated transport. If you ever need replacement parts, you will get them quickly thanks to our responsive service team.
Designed to provide ease of use – Our Power Broom lets you do the job fast and with less physical effort. Customers love its walk-forward, self-propelled design and tight turning radius. What's not to love about exceptional control and less manual exertion?
Tackles tough terrain – Hills and steep slopes are a non-issue with the TURF TEQ Power Broom. It has a variable-speed hydrostatic transmission with locking differential to let you work efficiently, even on challenging terrain.
Made With Your Convenience In Mind
As a multi-use machine, our Power Broom lets you go from broom to edger to rake to brush cutter by conveniently switching attachments. Best of all, you'll get the standard TURF TEQ advantages of controls you can access conveniently from the operator's position and a robust commercial-grade Honda engine.
Whether you're dethatching turf, removing snow, sweeping sand in pavers, or tending to some other landscaping job, you'll find the TURF TEQ Power Broom's ease of use and exceptional results impressive.
Contact us today to learn more about the many features and benefits that set our Power Broom and other commercial-grade landscaping equipment apart from that of our competition.