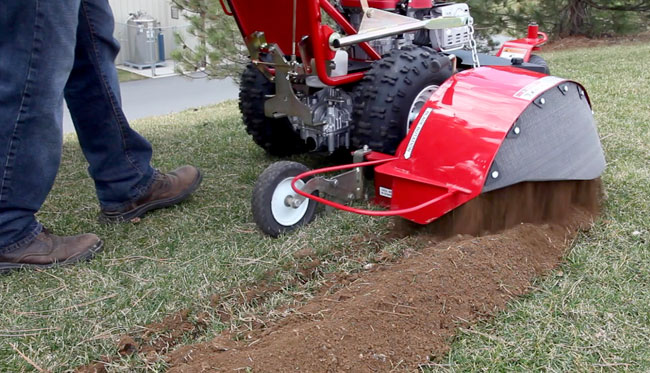 Which Is the Best Edger? Brown vs. Little Wonder vs. TURF TEQ
To get the best professional results on your landscaping jobs, you need the best professional-grade landscaping equipment. And bed edgers are no exception.
At TURF TEQ, we realize you have many brands to choose from. Manufacturers like Brown and Little Wonder offer machines that do a great job. We encourage you to learn more about them. In the meantime, we'll share the qualities that make our Power Edger so widely respected and recommended in the industry.
What Makes the TURF TEQ Power Edger An Ideal Choice?
Over-engineered for durability – The TURF TEQ Power Edger has a high-quality steel frame and commercial-grade parts and components. We've designed it to perform reliably and stand up to heavy-duty use and transport. With our responsive service team, you'll find it's convenient to get replacement parts if ever you need them. Our edgers last for decades not years, so you'll spend less on maintenance and replacement machines over time.
Works faster and has more power than other machines – Many of our customers have reported that the TURF TEQ Power Edger allows them to work faster than they did with other edgers. Put our Power Edger on the job, and you'll be capable of edging at 150 feet per minute and grooming at 170 feet per minute. We equip our Power Edger with a commercial-grade Honda engine, which means it has more get up and go than many competitors' edgers. And time is money, so the faster you can work the more profitable your business will be.
Self-propelled walk-forward design for ease of use – Our Power Edger is built to make the job not only fast but also less physically strenuous. With its walk-forward design, you have exceptional control. You'll also save yourself a lot of manual effort because the Power Edger is self-propelled, and turns within its own footprint.
Tackles tough terrain – Need to navigate a steep slope? No problem! The Power Edger comes with a variable-speed hydrostatic transmission with locking differential. It's up for whatever challenge the job has in store.
Numerous blade profiles for endless possibilities – With nine blade profiles available, the TURF TEQ Power Edger gives you the versatility you need to accomplish a wide range of tasks. From opening beds to shaping tree circles to trenching, you'll have all the bases covered simply by switching blades.
Have it your way!
Choose from either our dedicated use Power Edger or our multi-use machine that enables you to transform your Power Edger into a Power Broom, Power Rake, or Brush Cutter simply by switching attachments. Like all TURF TEQ equipment, our Power Edger also features a tight turning radius, and it has controls you can access conveniently from the operator's position.
Whether you're grooming flowerbeds, contouring lawns, or tackling other landscaping tasks, you'll appreciate the TURF TEQ Power Edger's precision and ease of use.
Of course, we encourage you to do your due diligence before deciding if the TURF TEQ Power Edger is right for you. Take a look at how it compares to the other commercial-grade edgers on the market. Then contact us to learn more about how our Power Edger and other multi-use landscaping machines can save your business time and boost your bottom line.