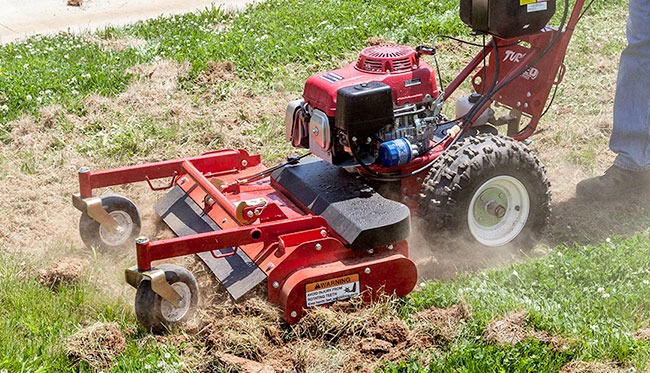 One Powerful Commercial Landscaping Tool, Many Ways to Save Time and Money This Spring
Spring is right around the corner. As you gear up for the start of another professional landscaping season, having the right tools for the job will save time and money as you plan ahead to tackle the most labor-intensive projects.
Take the TURF TEQ Power Rake, for example. Available as a complete multi-use machine or a rake attachment that works with our other multi-use machines, it offers efficiency allowing your crews to work easier and faster while delivering exceptional results.
Check out the features that make it a must-have for your business:
Heavy-duty 36-inch power rake drum that pivots left, right, and center
Ability to pivot 15 degrees to the left and right
Powerful commercial-grade Honda engine
Controls conveniently accessible from the operator's position
Tight turning radius for precise maneuvering on the job site
Self-propelled, walk-forward design
Hydrostatic transmission with variable speed and locking differential to navigate on slopes and hills
Just think of how these features will help you conquer spring landscaping projects such as:
Dethatching turf
Preparing lawns for overseeding
Rough grading soil
Preparing new lawns for seeding, sod or hydroseeding
Renovating lawns
Repairing areas of damaged sod
Raking debris
And that's just a few examples of the many applications for which it can boost your productivity.
Because of its multi-use capability, you need just one machine for all of your landscaping tasks. There's no need to deal with multiple engines and transmissions when you have Turf Teq attachments standing by.
All you need to do is swap out your Power Rake attachment with one of our other attachments…and you're all set.
Our Power Rake quickly changes into a:
Power Broom
Power Edger
Brush Cutter
Power Plow
No matter the season, it will give you the ability to finish jobs faster and better.
You've Got the Power When You Have TURF TEQ's Power Rake
Versatile, durable, and made in the USA— the Power Rake is built to last and designed to perform like no other landscaping machine. Contact us today to find out more about how it can transform your business.