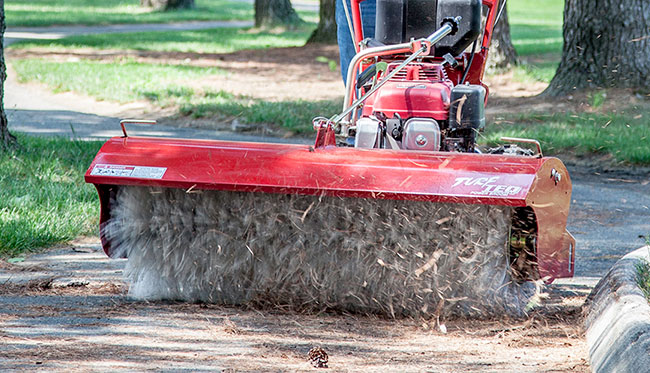 How Your Snow Removal Tools Can Become Your Spring Landscaping Go-to's
As the seasons change your winter snow removal equipment doesn't need to go into hibernation. TURF TEQ's Power Broom and Power Plow, known for their excellent performance when removing snow, will work just as hard for you in spring and beyond!
An All-Season, Multi-Use Power Duo
The TURF TEQ Power Plow and Power Broom are available as a complete multi-use machine or as attachments that will work with our other multi-use machines. And, because the Power Plow and Power Broom each have multi-use capabilities, you have the ability to add a Power Edger, Power Rake or Brush Cutter attachment to both machines. Either way, you can boost your productivity winter, spring, summer, and fall thanks to their innovative design. The Power Plow's and Power Broom's features include:
Commercial-grade Honda engine
Variable-speed, hydrostatic transmission with locking differential
Tight turning radius
Controls easily within reach
And more!
The Benefits of a TURF TEQ Power Plow
With its 46-inch plow blade, adjustable blade angle, innovative spring trip release, replaceable cutting edge, and the choice between oscillating or fixed blade use, the Power Plow excels at plowing snow up to a foot deep. But cleaning up after Mother Nature dumps a heaping helping of white stuff on the ground isn't all it does. In the spring, the Power Plow becomes perfect for:
Leveling soil
Grading gravel, crushed stone, and other materials
Agricultural Animal Waste Removal
And more!
The Benefits of the TURF TEQ Power Broom
The Power Broom's dense and durable bristles on its 46-inch wide / 18-inch diameter brush enable it to sweep a 33 percent larger area than other power brooms on the market. Grounds crews find it saves time and a lot of manual labor when clearing snow from walkways, lots, driveways, and even turf. Best of all, you don't have to sacrifice efficiency for quality—the Power Broom allows you to adjust brush speed, pressure, and angle, so the surface you're clearing will remain undamaged. But don't retire the Power Broom after the "White Christmas" months are behind us. When spring is in the air, you'll find it's up to the challenge of many tough landscaping jobs such as:
Dethatching lawns
Blossoming artificial turf and leveling filler
Sweeping sand & anti-skid debris from hardscapes
Spring clean-up
And much more
Contact us today to learn more about how we can help you make the most of your equipment year-round and tackle both snow removal and landscaping jobs with remarkable efficiency all year long.