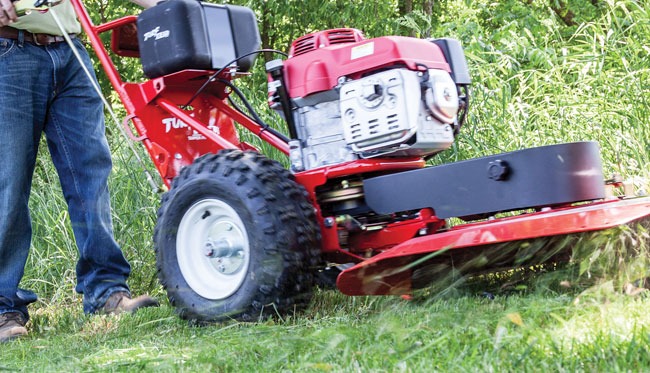 Cut Effort And Labor Costs With TURF TEQ's Power Brush Cutter
The easier it is to get the job done, the less time it takes to get the job done—and that means less labor cost and more profitability. Does that sound good to you?
Of course, it does. And TURF TEQ's multi-use Power Brush Cutter will help you get there. With its versatility and unique design, it saves time, eliminates hassle, and decreases manual effort.
Under circumstances when a traditional mower won't make the cut, the multi-use Power Brush Cutter will save the day. With its commercial-grade Honda GXV390 engine, 10 gauge thick steel cutting deck, and 26″ cutting blade, it's ideal for heavy mowing jobs. Other features that make it well-equipped to take on the toughest challenges include:
Its cutting deck shifts 14″ to the left, giving you a lot of versatility to get under fences and around treelines.
It offers 12 degrees of articulation between the mower unit and cutting deck.
It will easily take down 2" thick saplings.
You can adjust the mowing height 2.75″ or 3.75″.
It has a tight turning radius that allows you to navigate challenging spaces.
Tough terrain is a non-issue because of its variable speed, hydrostatic transmission with locking differential.
It has a walk-forward design, and its controls are at the operator's position, so your crew has complete control.
The differential lock keeps you tracking even on the side of a steep hill.
Use it for:
Clearing difficult brush and overgrowth
Cutting back deep vegetation
Mowing around trees and under fence lines
Clearing paths, trails, and wooded areas
If a regular mower won't cut it, you can count on TURF TEQ's Power Brush Cutter to take charge. And because of its multi-use design, it can transform into a Power Broom, Power Rake, or Power Edger with a simple change in attachments. That enables workers to go from one task to another quickly and easily. You also get the peace of mind of our one-year warranty and support from our friendly, experienced staff.
Contact us today to find out more about our American-made-and-assembled Power Brush Cutter and how it can help you boost your effectiveness and profitability.