3 Reasons Rental Businesses Love TURF TEQ Equipment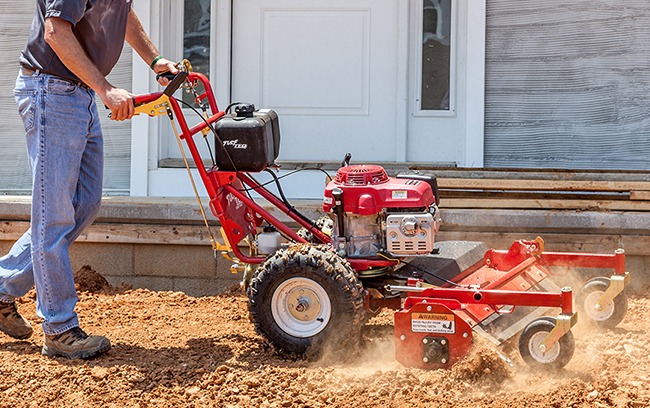 Providing customers with best-in-class equipment to help them accomplish the most challenging projects is at the heart of every successful rental business. That's why TURF TEQ has designed our professional-grade grounds care and snow removal equipment to provide versatility and high performance.
In addition to our complete dedicated-use machines, we build machines with multi-use flexibility, enabling your customers to edge, sweep, mow, rake, and more by simply changing attachments.
By adding TURF TEQ equipment to your rental inventory, you'll give your customers more value for the dollars they spend AND you'll reap business-boosting benefits as a result.
Here Are Three Simple Reasons Rental Companies Love Our Equipment
Ease of Use Without Sacrificing Quality
Because our machines have a self-propelled, walk-forward design, they're easy for rental customers to use. Also, our operator-friendly design makes all controls easily accessible from the operator's position. Most important, however, is that customers will get top-notch results when using TURF TEQ equipment.
Over-Engineered for Durability
We make our durable machines with commercial-grade parts and components and a high-quality steel frame that's backed by a one-year warranty. They stand up to years of heavy-duty use and transport. Our responsive factory-direct service makes it easy for you to get replacement parts straight from the manufacturer.  All in all, TURF TEQ equipment is sturdy enough to last for many years in a busy rental shop and is backed by the kind of knowledgeable factory-direct staff and same-day shipment of parts that will help keep your business running profitably.
Profitable, Recurring Revenue
Once you've invested in our equipment and your customers have experienced the value, ease of use and great results, they'll come back year after year to rent it. Whether its for their spring landscape edging, lawn overseeding in the fall, winter snow removal and other projects, that's repeat revenue you can bank on!
Boost Revenue And Maximize Profits: Now That's Something To Love!
If you want to increase your rental business's profitability, contact us about adding our versatile equipment to your inventory. With a strong ROI and promising revenue potential, you'll wonder why you didn't do it sooner!