3 Reasons Facility And Maintenance Managers Love TURF TEQ Equipment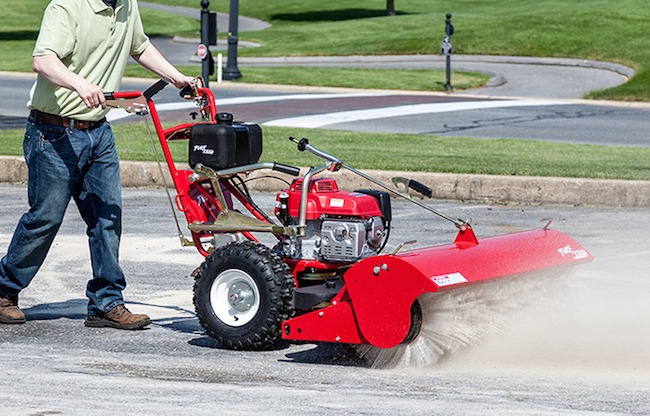 The list of projects can be nearly endless when maintaining the grounds at universities, parks, corporate campuses, and other facilities with substantial property to maintain. And that can put a significant strain on your staff and your budget.
That's why we've engineered our TURF TEQ professional-grade grounds care and snow removal equipment to help your staff tackle the toughest tasks with optimal efficiency. Our multi-use machines offer flexibility, enabling your grounds and maintenance crews to go from sweeping to mowing to edging to raking (and more!) by simply changing attachments.
TURF TEQ equipment can save your staff valuable time while making the property you're responsible for look its very best.
Three Simple Reasons Facility & Maintenance Managers Love Our Equipment
Exceptional Results
Our machines produce results you'll feel proud of. Our Power Broom quickly sweeps debris from hard surfaces with ease. You can even use it to dethatch turf and remove snow. With a variety of blade profiles, our Power Edger attachment creates precise edges. Our Brush Cutter can handle challenging mowing jobs and effectively clear areas of heavy vegetation. Plus, our Power Rake does an exemplary job when raking, preparing seedbeds, and making other landscape renovations.
Tough-as-Nails Durability
Our multi-use machines have a high-quality steel frame, and they're made with commercial-grade parts and components. We build them to last—year after year of heavy use. And if you ever need replacement parts, our factory-direct service enables you to easily get what you need straight from the manufacturer.
Flexibility and Versatility
We said it before, but we can't say it enough! With TURF TEQ multi-use machines, one machine serves many different purposes. That saves money because you only need to invest in one piece of equipment rather than multiple machines. It means only one engine and transmission to service instead of multiple engines and transmissions. It also means your staff can get jobs done more quickly as they simply change attachments rather than haul various pieces of equipment back and forth when trying to accomplish different tasks.
Easier For Your Staff & Tackles Tough Projects In A Single Bound
With TURF TEQ equipment's walking-forward, self-propelled design and versatility, your staff will find it easier and faster to finish even the toughest projects that come with the territory. And with results that are second to none, your property will look its best year round. Contact us to explore how our machines can save the day for your facilities or maintenance department.