Turf Teq Snow Removal Equipment Featured in Turf Magazine
TURF TEQ recently was featured in a Turf Magazine article that offered tips for landscaping and snow removal businesses to maximize their productivity over the winter and become more profitable.
The article featured our General Manager Tyler Templeton as well as Jim Day, one of the designers of our multi-use snow removal machines. Click the graphic below to read the article!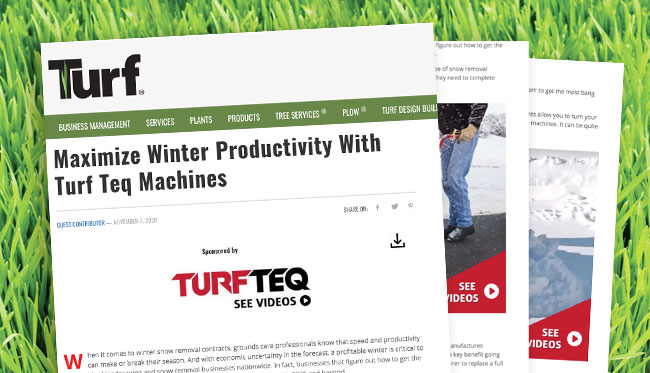 It's true, most landscaping and snow removal businesses are looking for machinery that will help them work faster and smarter. That's why our commercial-grade brooms and plows are designed to save time. These machines are especially fast at clearing sidewalks, allowing one laborer to replace a full crew of shovelers, and often doing the work of multiple other machines.
Want to Learn More?
Contact us today to learn more about how TURF TEQ snow removal equipment can help you save time and boost profitability. Get a quote on our multi-use machines today so that you can tackle tomorrow's snow removal jobs faster and better.