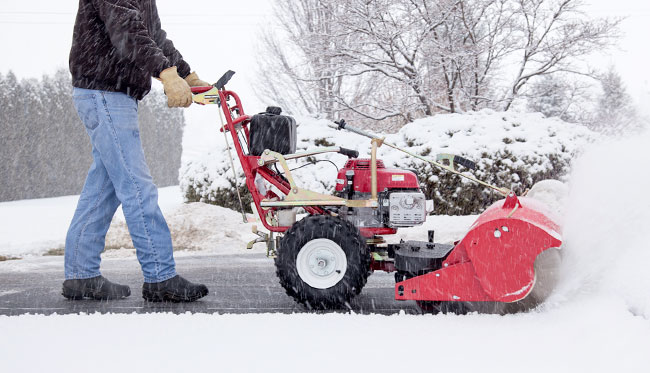 Start a Snow Removal Business With Snow Removal Equipment Built to Make You Profitable
There's a lot to think about when starting a snow removal business. Many of the decisions you make will directly impact your success. One of the most critical is choosing the right snow removal equipment.
What are the essential qualities and features you should look for in a professional snow removal machine? Read on for some important points to consider!
Durable Construction
Equipment needs to be built to last so that you will get the most out of your investment. At TURF TEQ, we make sure you get long-lasting value. Our commercial-grade Power Plow and walk-behind Power Broom have heavy-duty construction for up to three times the lifespan of other commercial snow removal machines on the market. We stand by our machines' quality with a comprehensive one-year warranty. And our expert support team is always here to answer your questions and troubleshoot issues. We hear feedback from our customers that our machines hold up over time, so much so that in many cases they'll last decades not just seasons!
Ease of Use and Efficiency
When you don't have to expend back-breaking manual effort to get the job done, you can work more efficiently. TURF TEQ machines have features that result in unparalleled ease of use. They're powerful and have a hydrostatic transmission with powered forward and powered reverse drive that makes work less laborious. And with all controls within reach of the operator's position, you can adjust settings effortlessly. This type of speed and efficiency means that our machines will allow you to get more work done faster, and with less manpower. And that's certainly an important consideration when you're just starting out!
Also, our machines have multi-use functionality to give you exceptional versatility and convenience. Your Power Plow can transform into a Power Broom (and vice versa) with a simple change of attachments. And if you decide to expand your business into spring, summer and winter groundskeeping, you'll be happy to know our multi-use machines can convert into a Power Edger, Brush Cutter and Power Rake simply by switching attachments. This means you'll make the most of your equipment investment and achieve year-round ROI on your dollars spent.
Exceptional results
The quality of work you deliver will affect your customers' satisfaction – and the referrals you get for additional business. For this reason, it's critical to have high-performance snow removal equipment that allows you to do the best job possible.
TURF TEQ's Power Plow and Power Broom come with features to help you remove snow effectively while keeping the ground below intact and unharmed. For example, the Power Broom has a 46" wide, 18" diameter brush that covers up to 33 percent more sweeping area than other motorized brooms on the market. And its adjustable brush speed, pressure and angle give you the ability to configure it for sensitive surface conditions. Similarly, our Power Plow has an auto-resetting trip spring to protect you and keep sidewalks from damage. And its oscillating plow blade follows the contours of the ground so that you can work with precision.
Position Your Snow Removal Business for Success
Contact us today to discuss the value and time-saving flexibility of TURF TEQ equipment. We look forward to helping you give your new business a competitive edge!