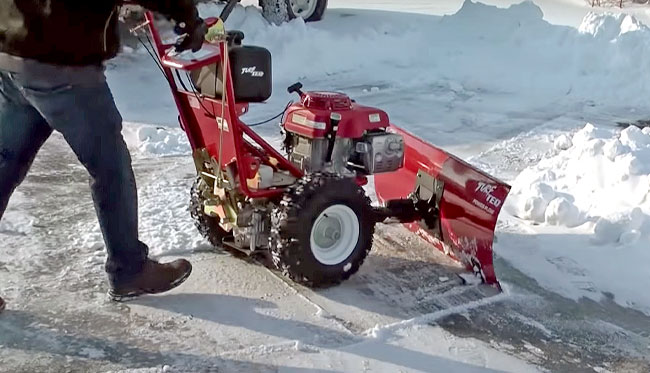 Professional Snow Removal Equipment to Help You Power Through Winter
It's tough to predict what winter will have in store for us. That's why your business must be prepared with high-performance professional snow removal equipment.
If you have the TURF TEQ Power Plow and Power Broom, you will be ready to tackle snowfall – from a light dusting to a foot-high pile and beyond. Our multi-use machines give groundskeeping teams all of the features they need to work efficiently and effectively under even the most challenging conditions.
They have a commercial-grade Honda engine and can accelerate to 4.5 mph, making them both powerful and fast. With a locking differential and variable-speed hydrostatic transmission, they provide exceptional traction in heavy snow. Your crew can maneuver tricky angles thanks to our machines' tight turning radius. Also, our machines' hydrostatic transmission with both powered forward and powered reverse drive, makes it easier to use and saves your team time and manual effort.
Most importantly, both of these machines are designed to help your business maximize productivity and profitability when it comes to winter snow removal contracts. With Turf Teq machines in your fleet, you'll get more work done faster, and with less manpower, and that will help you boost your bottom line.
Power Plow Highlights

Plows up to a foot of snow
46" plow blade for covering a lot of territory on each pass
Oscillating and fixed blade settings
Adjustable skid shoes
Replaceable cutting edge
Power Broom Highlights
46" wide, 18" diameter brush = 33 percent more sweeping area
Dense bristles and adjustable down-force for powerful sweeping and long brush life
Adjustable brush speed, angle and pressure to sweep thoroughly without damaging surfaces
15-degree pivot capabilities to promote precision
Work Smarter This Winter With TURF TEQ 
Because we design our TURF TEQ machines with multi-use functionality, you can have the Power Plow and Power Broom in a single piece of equipment – all it takes is switching attachments. Also, TURF TEQ equipment makes it easy for operators to change settings and navigate; all controls are within reach of the operator position.
Best of all, our multi-use professional snow removal equipment is compatible with all of our other multi-use landscaping attachments. So, you can transform our Power Plow and Power Broom into our Power Edger, Brush Cutter or Power Rake to handle spring, summer and fall groundskeeping tasks, too.
Contact us today to learn more about TURF TEQ value and versatility!