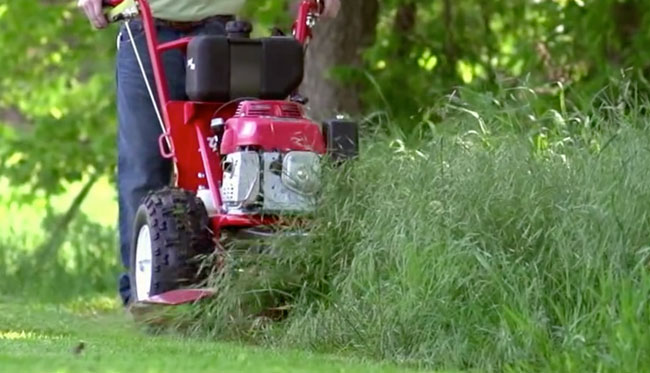 How To Make Short Work Of Landscaping Tasks With TURF TEQ's Multi-Use Brush Cutter
Busy landscaping crews are always looking for ways to get work done more productively without putting extra strain on their team. Fortunately, the right commercial landscaping equipment can make that possible.
At TURF TEQ, we design our commercial-grade landscaping machines to help professional landscaping companies work faster, expend less manual effort, and still deliver quality results. This means higher productivity and more profitability for your business.
Our professional-grade Brush Cutter, for example, makes a variety of lawn and landscape tasks a breeze. When you put it on the job, it will help your business do exceptional work in less time. You'll discover it's perfect for:
Mowing stubborn vegetation
Clearing overgrowth
Mowing under fence lines and around trees
Clearing trails
Taking care of tough jobs that a regular mower isn't strong enough to handle
What makes it so effective and efficient?  Let us count the ways!
1. It shows tough terrain who is the boss.
Our Brush Cutter has a powerful commercial-grade Honda engine, so it's built with some oomph. Also, it makes navigating hills a non-event because of its locking differential, variable speed, and hydrostatic transmission.
2. It demands less manual effort from your crew.
Its powerful engine and large Snow Hog tires make jobs less labor intensive for your workers. And it's easy to operate, with all controls within reach from the operator's position.
3. It's versatile.
The Brush Cutter has a tight turning radius for precise maneuvering, and you can adjust its mowing height to 2.75″ or 3.75″. Its 10-gauge thick steel cutting deck shifts 14″ to the left. Also, it provides 12 degrees of articulation between the mower unit and the cutting deck.
4. "Multi-use" means the machine can adapt to changing tasks.
That's right! Simply switch attachments on your machine, and your Brush Cutter can become a Power Broom, Power Edger, or Power Rake in a matter of minutes. This enables you to go from season to season as your needs change, using a single engine and transmission unit to perform a variety of tasks. It's a great way to save on equipment, and maximize your investment.
As are all of our other TURF TEQ multi-use landscaping machines, our Brush Cutter is made in the USA and comes with a comprehensive one-year warranty.
Contact us or get a quote today. TURF TEQ is here to help you make spring—and every season—more productive and profitable.