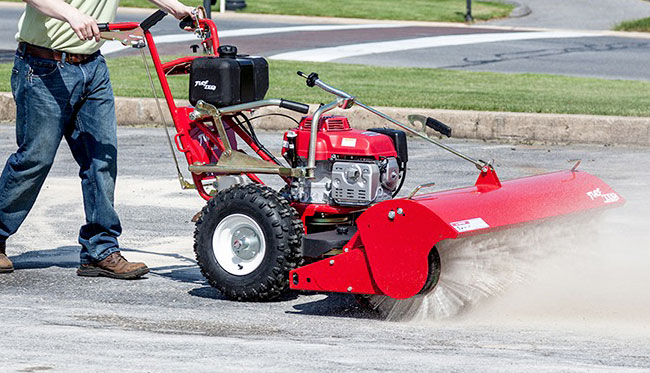 Four Ways TURF TEQ's Multi-Use Power Broom Makes Landscaping Jobs A Clean Sweep
To keep up with the abundance of projects, professional landscaping companies must find ways to handle jobs more efficiently while still producing the exceptional work their clients expect.
One way to boost productivity and maintain work quality is by using TURF TEQ's multi-use professional landscaping equipment.
For example, our commercial-grade Power Broom is one machine that offers multiple benefits. It can help you with a wide variety of landscaping tasks such as:
Dethatching lawns
Clearing snow and winter slush
Sweeping sidewalks, driveways, and parking lots
Cleaning debris from turf
Sweeping sand in pavers
Sweeping hardscape features
Spring cleanup
And more
Our Power Broom makes short work of jobs both small and large. If you're wondering how—read on!
1. It empowers you to do precise work.
Our multi-use Power Broom offers a level of versatility you'll love. Its 46" wide and 18" in diameter brush pivots 15 degrees left and right. You can adjust the brush speed, pressure, and angle—so that you can accommodate tasks on even sensitive surfaces without damaging them. Its tight turning radius allows you to navigate tricky angles and confined spaces.
2. It puts your crew in control.
Like all TURF TEQ multi-use equipment, the Power Broom has all controls within convenient reach from the operator's position. Your crew members will love the way its walk-forward, self-propelled design decreases the manual effort they need to put into their work.
3. It has the upper hand on tough terrain.
Our Power Broom has some real power behind it thanks to its commercial-grade Honda engine. Also, its variable speed, hydrostatic transmission with locking differential makes navigating hills a breeze.
4. It's more than a broom.
Forget the hassle and expense of buying multiple complete machines. With the TURF TEQ Power Broom, you can switch from one task to the next by simply changing attachments. In a matter of minutes, your Power Broom will become a Brush Cutter, Power Edger, or Power Rake. This allows a single engine and transmission to work with a variety of attachments as the seasons – or your needs – change throughout the year.
Our Power Broom is made in the USA, just like all of our other TURF TEQ machines. We give you a comprehensive one-year warranty so that you can feel confident in our assurance of its performance and reliability.
Request a quote now or contact us to learn more about our Power Broom and other multi-use machines.