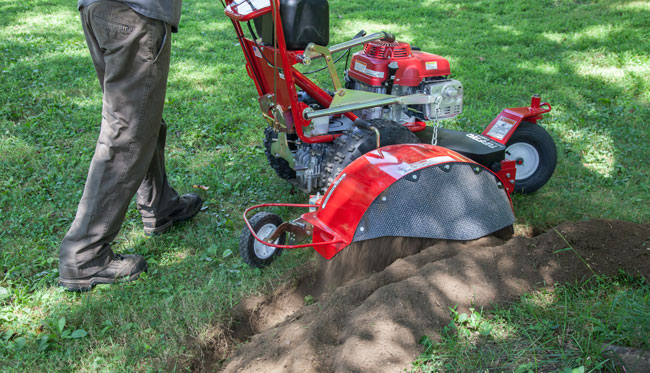 How Our Multi-Use Power Edger Can Help You Complete Landscaping Projects More Profitably
During the busy spring and summer seasons, time is money when tackling landscaping jobs. But the quality of work must also remain a top priority. To work efficiently and deliver exceptional results, lawn and landscaping crews need both skill and the right equipment.
At TURF TEQ, we design our professional-grade landscaping machines to help landscaping pros work more productively and precisely. Take our multi-use Power Edger, for example. Projects are a breeze when you put it on the job.
With a unique, walking-forward design, it's a commercial-grade bed edger that you can count on to accomplish more tasks in less time, including:
Defining tree circles
Creating new beds
Redefining existing beds
Making trenches
Edging sidewalks
Edging cart paths
And more
How does our commercial-grade bed edger help you save time and money? We're glad you asked!
1. It enables you to navigate harsh terrain with ease.
The Power Edger's commercial-grade Honda GXV390 engine gives it some impressive get-up-and-go, and its variable speed, hydrostatic transmission with optional locking differential makes short work of hills.
2. It lets your team work smarter not harder.
We created it with user-friendliness in mind. All controls are within easy reach from the operator's position. And with its walk-forward, self-propelled design, it doesn't require as much manual effort as other machines on the market.
3. It's built to impress.
With its tight turning radius, nine blade profiles, and adjustable blade depth and angle, our Power Edger performs with precision and creates beautiful results your customers will love.
4. It can switch jobs in a few minutes, with multi-use technology.
When it's time to switch from one task to the next, all you need to do is change attachments on your machine. Your Power Edger can become a Power Rake or Power Broom or Brush Cutter in a matter of just a few minutes. This can give you year-round functionality from a single engine and transmission unit – maximizing your equipment investment.
5. It's designed to boost your bottom line.
The Power Edger is fast, and that means it will do more work in less time. When you get jobs done faster, you'll get paid and move on to the next project more quickly. Plus, it eliminates the need for multiple laborers. With the Power Edger, a single operator can do in minutes what used to take a crew of landscapers hours to accomplish. This compounded productivity means greater profitability for your business.
6. It's made to last.
Just like all our other TURF TEQ multi-use landscaping machines, the Power Edger is made in Pennsylvania of the highest quality materials, and comes with a comprehensive one-year warranty. That means it will hold up even under the toughest use, and will help minimize equipment repair and maintenance costs over time.
Contact us to learn more about how our professional-grade landscaping machines can boost your business's productivity and profitability all year long. We're standing by and looking forward to helping you!