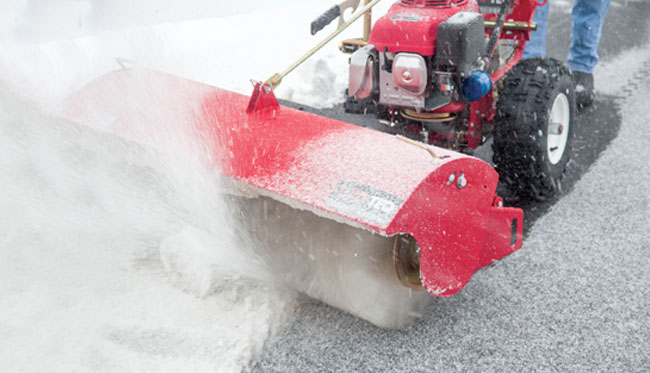 Give Snow the Heave-Ho with TURF TEQ's Commercial Snow Broom
Got snow? Yeah, it's that time of year—again! Fortunately, TURF TEQ's Power Broom is here to help you make short work of winter's wrath. It's the commercial snow broom that professional groundskeepers rely on for helping them keep sidewalks, lots, hardscaping free and clear of precipitation that could result in slip and falls.
Why Choose the TURF TEQ Power Broom Over Other  Commercial Snow Brooms?
We've designed our Power Broom with superior features and durability to ensure that it does an exceptional job while delivering excellent efficiency. It's ideal for clearing light snow and keeping ice at bay. And, it's perfect for use with our heavy-duty Power Plow, which can remove snow up to one foot deep. The Power Broom is available as a multi-use machine, so, with the simple change of attachments, your Power Broom can become a TURF TEQ Power Plow – and vice versa!
Here's a short list of what makes it the standout choice in commercial snow brooms:
It puts operators in control thanks to its walk-forward, self-propelled design—and all controls are within reach from the operator's position.
Its 46" wide, 18" diameter brush has 33 percent more sweeping area than many other commercial snow brooms on the market. Its dense bristles are made to last and give it impressive sweeping power!
Its brush pivots 15 degrees to the left and right. Also, you can adjust its speed, pressure, and angle to accommodate the surface you're cleaning.
It makes it easy to sweep snow from tricky places because its tight turning radius gives you optimal maneuverability.
It's powerful! Its commercial-grade Honda GXV390 engine and variable-speed, hydrostatic transmission with locking differential give you the oomph you need on inclines and tough terrain.
The brush will not plug up with snow
It reduces the amount of salt-spreading that's needed
We make it in the USA using high-quality steel parts for long-lasting durability.
We stand by its value. You get a comprehensive one-year machine warranty and three-year engine warranty, and our team is just a phone call away if you have any questions or issues.
Take Your Snow Removal Superpowers to the Next Level
Contact us to chat about how the TURF TEQ Power Broom outperforms and outlasts other commercial snow brooms. We're here to answer your questions and give you more information about how our multi-use Power Broom can boost your productivity this winter and every season ahead.