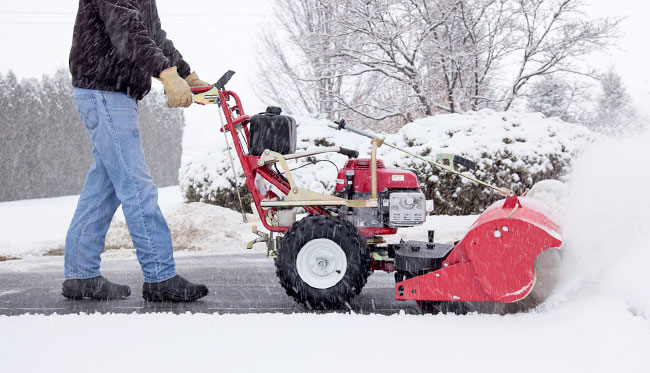 A Power Snow Broom That Earns Its Keep All Year Long
The TURF TEQ Power Broom is a best-in-class power brush sweeper for snow that makes it easy to keep walkways, pavers, lots, and other surfaces clear during winter weather. Even better, it has many other versatile uses, so it delivers value in all four seasons.
Why Choose the TURF TEQ Power Broom as Your Brush Sweeper for Snow?
Walk-forward, self-propelled design for ease of use and optimal control
46" wide, 18" diameter brush = 33 percent more sweeping area than many of the competitors' power brooms
Brush pivots and has an adjustable speed, pressure, and angle—tough on snow but easy on the surface being cleared
Dense bristles that last several seasons and deliver optimal sweeping power
Tight turning radius to get into spaces that are tricky to maneuver
Powerful commercial-grade engine and variable-speed, hydrostatic transmission with locking differential to power through snow and inclines
Available as a Power Broom machine or as a broom attachment that can be used with any TURF TEQ multi-use machine
Excellent for removing light snow from hardscapes, turf, parking lots, sidewalks, and more
Perfect for use with the TURF TEQ Power Plow. Clean up heavier accumulations with the Power Plow and then brush away any remaining precipitation on surfaces using the Power Broom.
Comprehensive one-year warranty for peace of mind
Made—using high-quality welded steel parts—right here in the USA
Your Power Broom for All Seasons
The TURF TEQ Power Broom does much more than just handle snow. It allows you to get the most from your investment because it's great for groundskeeping jobs in every season.
Blossoming artificial turf
Cleaning debris from lots, driveways, and hardscapes
Cleaning construction sites
Sweeping sand in between pavers
Dethatching lawns
Boost Your Productivity All Year Long with the TURF TEQ Power Broom
From excelling as a power brush sweeper for snow in winter to serving as the ultimate landscaping tool in spring, summer, and fall, the TURF TEQ Power Broom will ensure you achieve maximum efficiency in all you do. Contact us today to learn more!