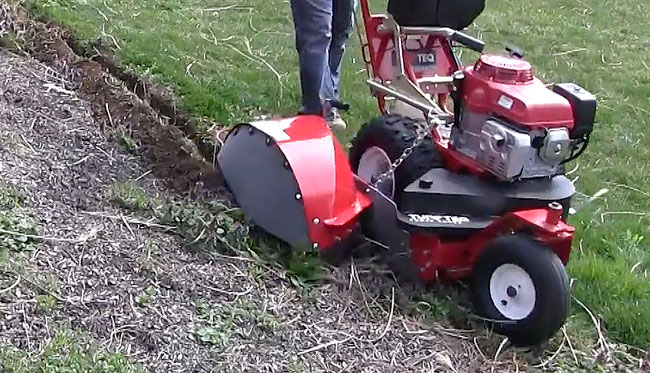 Make Short Work Of These Seven Landscaping Tasks With The TURF TEQ Power Edger
With the TURF TEQ Power Edger, there's no need to sweat difficult landscaping tasks. Available as a dedicated-use machine, a multi-use machine, or as an edger attachment to fit all of our multi-use products, our commercial-grade bed edger lets you handle this season's jobs efficiently and with ease.
Like all of our innovative professional landscaping equipment, the Power Edger is made in the USA and comes with a comprehensive one-year warranty.
Its commercial-grade features provide unparalleled versatility and durability. It has nine available blade profiles—and you can order custom profiles, as well—for which you can adjust the angle and the depth.
Standard blade profiles include:
Bed opening
Bed grooming
Sidewalk/golf cart path
Trenching, with various sizes
The Power Edger's professional-grade Honda engine; variable speed, hydrostatic transmission; and self-propelled, walk-forward design help minimize physical effort when tackling tough projects.
With its tight turning radius to navigate angles and the ability to edge at a rate of 60 feet per minute and groom at 170 feet per minute, you can tackle tasks faster than ever before. And you'll love that all controls are easy to reach from the operator's position!
Use The TURF TEQ Power Edger To Power Through These Tasks And More
Creating beds
Edging sidewalks
Edging cart paths
Contouring tree circles
Cutting trenches
Defining beds
Edging garden stepping stones and walkways
Why Work Harder Than You Have To?
Contact us to learn more about how the TURF TEQ Power Edger and our other innovative professional landscaping equipment can deliver exceptional results and boost your efficiency.