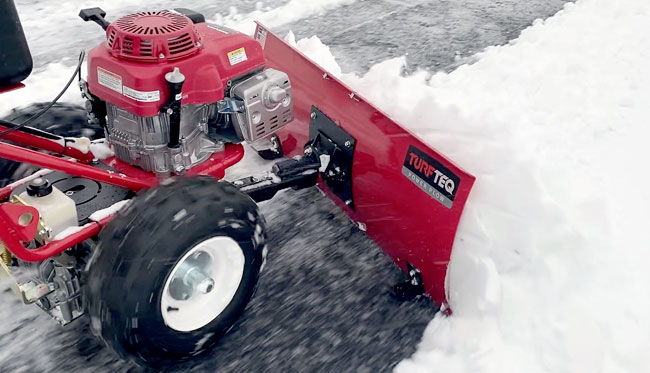 Factors to Consider When Looking for Snow Removal Equipment
When it comes to clearing snow and managing winter contracts, the efficiency and reliability of your snow removal equipment is crucial. Inefficient equipment can cause you to spend more time on the jobsite, and unreliable machines can break down when you need them most – costing you lost time, repairs and aggravation.
So if you're in the market for a power broom, walk-behind plow, commercial snow blower or other commercial-grade snow removal equipment, it pays to ask the right questions and ultimately choose a machine that will positively impact your business.
4 Things to Think About Before You Buy New Snow Removal Equipment
How Fast Does It Move?
The faster you move snow, the faster you can get one job done and move on to the next. And, with greater productivity comes greater profitability to boot. That's why we designed our snow removal machines to work quickly, without sacrificing results. They have a self-propelled, commercial-grade engine that produces a ground speed of 4.5 mph. And, when it comes to sidewalks and walkways, the speed of our Power Broom is unmatched. In fact, the Power Broom consistently outperforms snow blowers, hand-shoveling and other snow sweeping options.
Is it Designed for Productivity?
The more your machines speed up your day, the more money you will ultimately make. That's why our Power Broom is designed to clear the full width of a sidewalk in a single pass, right down to the surface. Without the need to make multiple passes, you'll get far more sidewalk cleared in a short amount of time. And because the Power Broom clears snow right down to the surface, it reduces the need to spend time following along with shovels and salt. Other unique features like our inboard caster wheels, which are located behind the brush, mean that the Power Broom won't wobble off over curbs or beds, making it easier to work quickly and precisely.
Does it Avoid Damage to the Underlying Surface?
If you ever had to spend extra time or money on a jobsite performing costly repairs, you can appreciate the value of having snow removal machines that don't leave damage in their wake. Our Power Broom has urethane dolly wheels, adjustable downforce and can be used to sweep pavement, pavers, stamped concrete and more without damaging the underlying surface. In addition, our Power Plow has a spring-loaded blade that won't chip curbs or dig into turf.
Does it Offer Multi-Use Flexibility?
Why invest in multiple single-use grounds care machines when one multi-purpose machine can do a variety of jobs all year round? Thanks to smart engineering and creative manufacturing, each of our machines is available as a complete machine or as an attachment that will work with any of our other multi-use machines. This means a Power Broom can become a Power Edger in the spring, a Power Brush Cutter in the summer, and a Power Rake in the fall. At TURF TEQ, every multi-use machine we offer is compatible with every attachment, so you can choose a combination of machines and attachments that will suit your needs while helping you maximize your equipment investment.
Ready for an Upgrade?
If you're looking for professional-grade snow removal machines that will help your business maximize snow removal productivity and profitability, contact us today. Our experts are standing by to learn about your needs and help you choose the right machine to maximize your business. We look forward to hearing from you!